HoYoVerse, the developer behind Genshin Impact and Honkai Impact has recently created a teaser website for its next project titled Zenless Zone Zero, and more details will arrive on the 13th of May. On the website, front and center sits an old-fashioned box television on a VCR player surrounded by a wall of retro posters and a bookshelf. The only other items that give away any information is a calendar on the left side of the tv (May 13 circled) and a digital alarm clock that sits on top of it. The aesthetic of the basement wall overall provides a sense of world-building for what's to come. 
Upon interacting with the dials, the television will play several random videos. One of them is a low signal feed of an indiscernible clip with the voice-over of a man in distress. This focuses more on audio than the visual, vaguely describing peculiar topics and becoming more maniac and angry as he goes on. He seems to be justifying some kind of uprising against those he describes as "ruthless people, hypocrites, liars", but his speech is open to interpretation. "Wait a few days. It will all be alright," The man says at the end.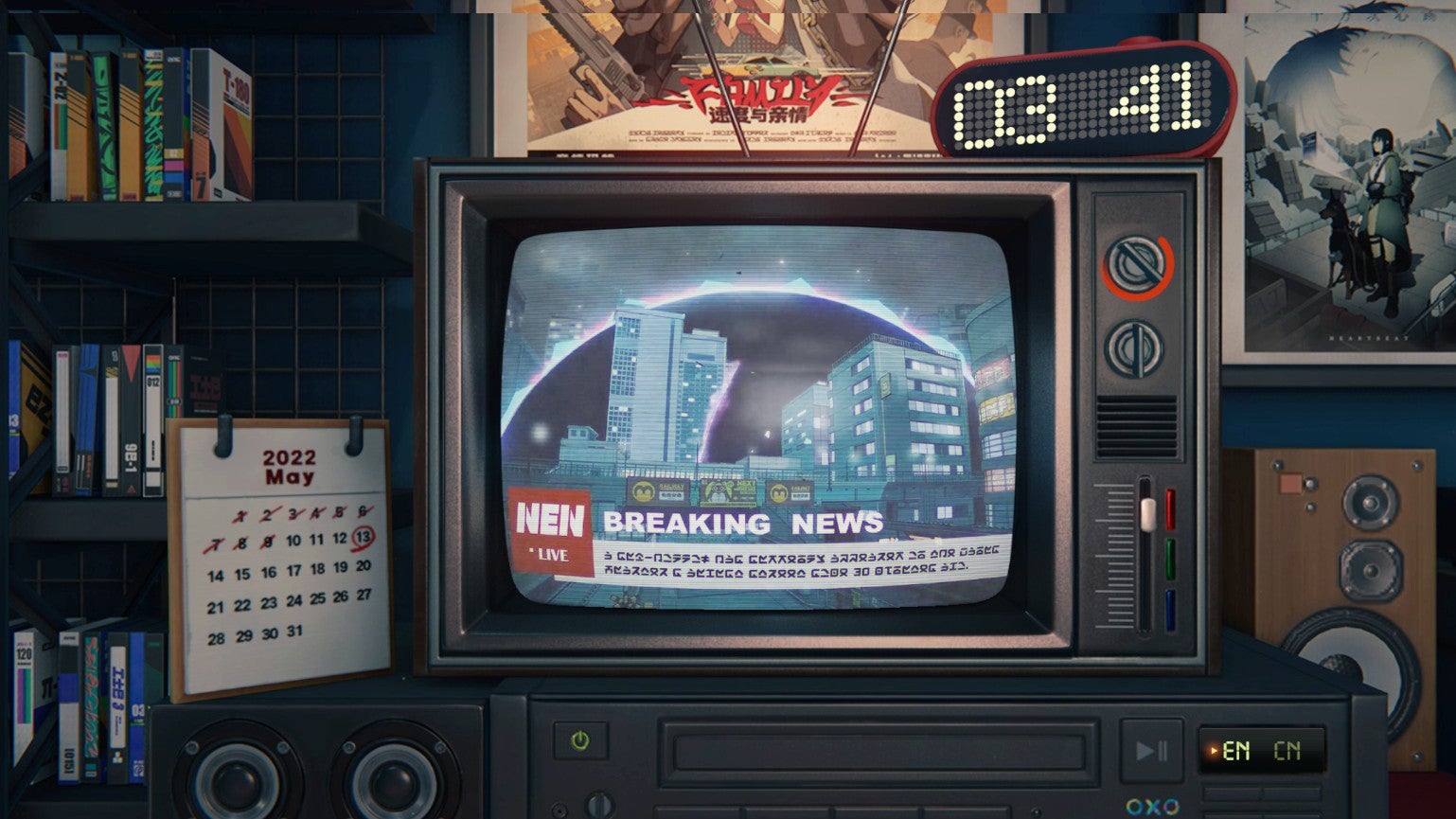 The second video on the TV will give a bit more context, showing a "Breaking News" screen in which buildings are engulfed by a gigantic black sphere of energy. The theme of ZZZ is likely to be set in a post-apocalyptic world that isn't new to such a phenomenon, as the newscaster almost casually announces "a sub-hollow has suddenly appeared." At the end of the news clip, the appearance of a robot also proves that the time period may also be in the future. The spherical rabbit-eared robot accompanies what could be the game's main characters, though only the back of their heads is visible. 
News Flash–

Dear citizens, a sub-Hollow disaster has occurred in the district you are traveling to.

We are playing a special entertainment channel for you to enjoy while you wait. https://t.co/QuXbBvJ7Go

Welcome to _____!#ZZZ pic.twitter.com/JpWlcJ0rBp

— Zenless Zone Zero (@ZZZ_EN) May 8, 2022
In 2019 during the Nvidia GTC 2019 conference, a project labeled "Project X" was described as a "new ray-traced action shooter" to be released by HoYoVerse in mid-2021. "The game features next-gen anime-style rendering and advanced interactive physics on a spherical open-world planet." This game could possibly be what Project X was referring to, which would mean ZZZ has been in the works for several years. A strong team is necessary to carry out such an ambitious project, and HoYoVerse's job listings mention the vision of a "cutting-edge, brand-new AAA project" in most of them. Some of the roles ask for "experience in vehicle-related game development" which can be tied to the book titled T-180 on the top left of the teaser website's screen. A T-180 is a vehicle similar to Formula-1 race cars, which suggests ZZZ may either be focused heavily on vehicles or that they will just be a part of the game. Either way, a full reveal can be expected on May 13th to fulfill speculation and anticipation.