After Square Enix's cinematic reveal at the E3 conference earlier this year, the world has been waiting to see just what Marvel's Avengers has in store for players. Appearing at more conventions along the circuit this summer, such as San Diego Comic-Con, attendees were given exclusive behind-closed-door previews. When Square Enix presented the game at Gamescom recently, they revealed over 18 minutes of pre-alpha gameplay to the rest of us, which you can check out below.
The gameplay seems to pick up right where the trailer leads the story; a celebration in honor of the Avengers goes horribly wrong when some sort of terrorist organization attacks the city of San Fransisco. Cap sends Tony and Thor to the Golden Gate Bridge to see what the issue is. The actual gameplay begins with none other than the God of Thunder himself, tossing Mjolnir at baddies like he was handing out free candy. One notable ability that players can utilize while playing as Thor is to throw his hammer to pin an enemy in place, continue to fight with his fists, then recall the weapon at will. Thor can also summon lightning for devastating AOE chain attacks.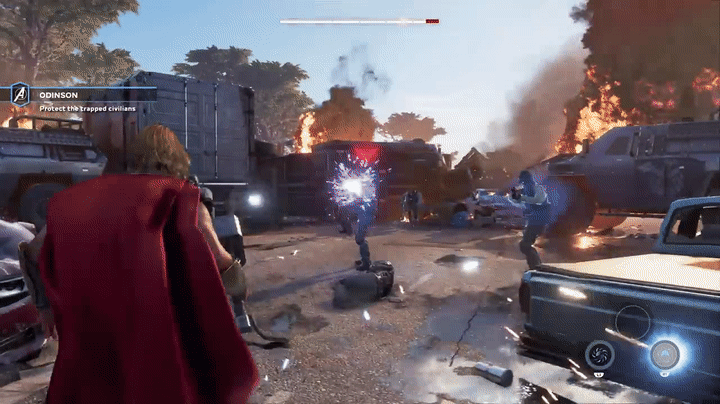 When the enemy takes the fight to the skies, a quick cut scene leads into playing as Iron Man in hot pursuit. Iron Man's gameplay seems to allow players to switch between ground-based combat, as well as hovering in the air a bit for extra maneuverability. Players can switch between Stark's missiles and repulsors to take out what appear to be more heavily armored enemies and turrets. When the repulsor tanks prove just a little too much for Tony, the Hulk drops in from above, bringing his signature move to give the enemies a little more than a headache. The Hulk uses pure brute force to best his foes, and it seems as though his ability loadout relies heavily on using the environment around him, including the enemies themselves, to throw or smash into other enemies.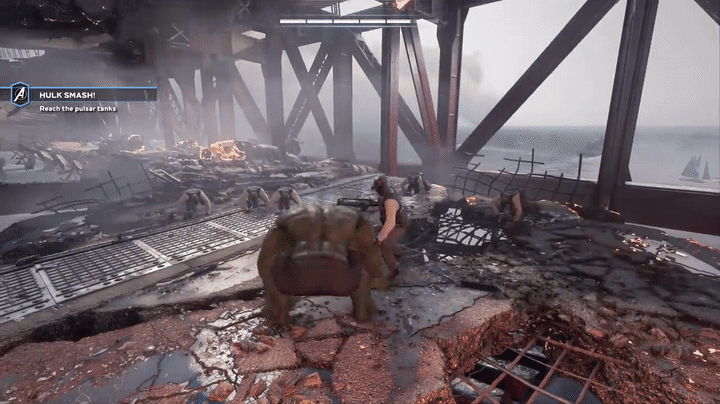 After things settle down a bit on the bridge, a cutscene leads into some of Captain America's gameplay after enemies have invaded the Quinjet. Cap's abilities obviously revolve around his trademark shield, allowing players to launch it at enemies, ricocheting between them before returning. He can also slam the shield to the ground, unleashing a massive AOE seismic slam. After another cutscene in which Taskmaster shows up with a bomb in tow, Black Widow shows off her hand-to-hand combat skills while the rest of the team keep the bridge from collapsing. Natasha switches between up close and personal fighting, dual wield pistols, and electric batons. To round out her loadout, she also has a cloaking ability to allow a surprise drop on the enemy.
It seems that player actions, as any character, also contribute experience points which are broken into level tiers, though what this builds to was not shown. Overall, the gameplay footage showed your average video game intro mission/tutorial, designed to give players a chance to learn each character. If the prologue is any indication of what the rest of the game will be like, players can expect a cinematic experience and character changes between cutscenes.
Marvel's Avengers is slated to release on May 15, 2020 for PS4, Xbox One, PC, and Google Stadia.